RIVER OF LIFE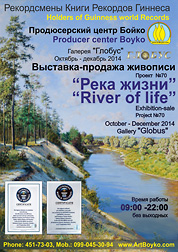 Producer Center Boyko, Gallery "Globus" present Project № 70 the exhibition-sale of painting "River of life".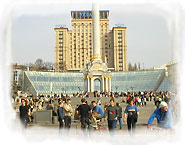 The collection is open since October to the end of December, 2014.
Place: Ukraine, Kyiv, Independence Square, Shopping Exhibition Centre "Globus". Line 3, gallery "Globus".
This exhibition presents hundreds of the works of the artists from the different regions of Ukraine.

Afanasev Andrey

Kiev at winter

#04, canvas, oil

15.7"x21.7", 2012

Afanasev Andrey

Church of Podol

#06, canvas, oil

16.5"x22.0", 2012

Agasyan Roman

Mums Princess Anna

#81, canvas, oil

11.8"x15.7", 2006

Agasyan Roman

Pears and mums

#106, canvas, oil

12.0"x16.0", 2007

Agasyan Roman

Pomegranate and vine

#120, canvas, oil

23.6"x19.7", 2008

Agasyan Roman

Venice

#132, canvas, oil

13.8"x19.7", 2010

Agasyan Roman

Still life with cherries

#133, canvas, oil

15.7"x21.7", 2012

Agasyan Roman

Oriental still life with quince

#134, canvas, oil

33.5"x23.6", 2012

Agasyan Roman

Still life with grapes

#135, canvas, oil

27.6"x39.4", 2011

Agasyan Roman

Still life with fish

#139, canvas, oil

37.4"x15.7", 2009

Ageyenko Roman

Fateful meeting

#04, canvas, oil

45.7"x35.4", 2003

Ageyenko Roman

Driven by innocence

#09, canvas, oil

45.7"x35.4", 2003

Ageyenko Roman

Vacation at Crans-Montana

#35, canvas, oil

45.3"x35.4", 2009

Ageyenko Roman

Snow leopard

#37, canvas, oil

19.7"x23.6", 2009

Ageyenko Roman

Snowy winter

#38, canvas, oil

9.8"x11.8", 2009

Ageyenko Roman

Inhul river, village Sofievka

#39, canvas, oil

15.7"x9.4", 2010

Ageyenko Roman

Lantern at the old town

#41, canvas, oil

9.8"x11.8", 2011

Ageyenko Roman

Sunflowers

#42, canvas, oil

21.7"x25.6", 2012

Alimov Sergius

After the flood

#01, canvas, oil

21.7"x31.5", 2010

Alimov Sergius

Lone samurai

#02, canvas, oil

15.9"x12.0", 2010

Alimov Sergius

Evening in Okinawa

#03, canvas, oil

13.8"x31.5", 2006

Alimov Sergius

Samurai in Okinawa

#04, canvas, oil

15.7"x11.8", 2010

Alimov Sergius

Fate Of The Maiden

#05, canvas, oil

13.8"x11.8", 2009

Alimov Sergius

Quarrel

#06, canvas, oil

21.7"x17.7", 2006

Asatryan Samvel

Still life. Wildflowers

#01, canvas, oil

19.7"x23.6", 2012

Asatryan Samvel

Still life

#02, canvas, oil

18.1"x23.6", 2012

Asatryan Samvel

Still life with pomegranates

#03, canvas, oil

31.5"x23.6", 2010

Bas Paul

Rural landscape with cows

#02, canvas, oil

15.0"x17.7", 2011

Bas Paul

Morning in the Pochayevskaya monastery

#04, canvas, oil

16.1"x19.7", 2010

Bas Paul

Revenge of Poseidon

#26, canvas, oil

18.9"x20.5", 2011