FLOWERS GIVE US INSPIRATION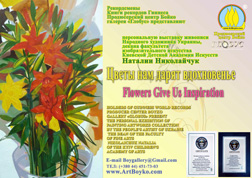 Producer Center Boyko, Gallery "Globus" in project № 72 present the exhibition of painting artworks collection "Flowers Give Us Inspiration" by the People's Artist of Ukraine, the dean of the Faculty of Fine Arts of the Kyiv Children's Academy of Arts - Nikolaichuk Natalia.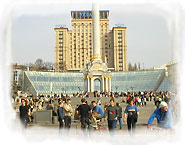 The collection is open since January to the end of May, 2015.
Place: Ukraine, Kyiv, Independence Square, Shopping Exhibition Centre "Globus". Line 3, gallery "Globus".

Nikolaychuk Nataliya

Flowers

#51, canvas, oil

27.6"x15.7", 2010

Nikolaychuk Nataliya

?eonies

#56, canvas, oil

27.6"x23.6", 2010

Nikolaychuk Nataliya

Park

#90, canvas, oil

19.7"x19.7", 2011

Nikolaychuk Nataliya

Park alley

#91, canvas, oil

19.7"x27.6", 2013

Nikolaychuk Nataliya

Roses on a blue background

#92, canvas, oil

23.6"x19.7", 2014

Nikolaychuk Nataliya

Sunset

#93, canvas, oil

27.6"x19.7", 2014

Nikolaychuk Nataliya

Golden roses

#94, canvas, oil

31.5"x31.5", 2012

Nikolaychuk Nataliya

Energy of the sun

#95, canvas, oil

15.7"x19.7", 2013

Nikolaychuk Nataliya

Spring

#96, canvas, oil

19.7"x27.6", 2014

Nikolaychuk Nataliya

Fragnance

#97, canvas, oil

23.6"x35.4", 2013

Nikolaychuk Nataliya

Bouquet with a pomegranate

#98, canvas, oil

31.5"x27.6", 2013

Nikolaychuk Nataliya

Spring wind

#99, canvas, oil

27.6"x19.7", 2011

Nikolaychuk Nataliya

Lilac

#100, canvas, oil

47.2"x23.6", 2014

Nikolaychuk Nataliya

Bright lilies

#101, canvas, oil

47.2"x23.6", 2014

Nikolaychuk Nataliya

Blossoming bouquet

#102, canvas, oil

19.7"x23.6", 2014

Nikolaychuk Nataliya

August in Gurzuf

#103, canvas, oil

19.7"x19.7", 2014

Nikolaychuk Nataliya

Holiday Roses

#104, canvas, oil

35.4"x19.7", 2010

Nikolaychuk Nataliya

Gladiolus

#105, canvas, oil

43.3"x23.6", 2012