NATURE'S GENTLE BREATH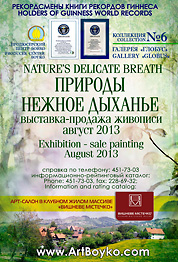 Producer Center Boyko, Gallery "Globus" in conjunction with the Residential Club District "Cherry Town" present
The collection of paintings No 6 "Nature's gentle breath."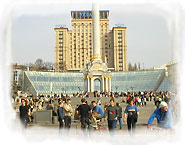 The collection is open since August to the end of September, 2013.
Place: Ukraine, Kyiv, Independence Square, Shopping Exhibition Centre "Globus". Line 3, gallery "Globus".
The collection was presented by 38 artists with 77 artworks.

Agasyan Roman

Apples

#137, canvas, oil

15.7"x25.6", 2011

Ageyenko Roman

Snowy winter

#38, canvas, oil

9.8"x11.8", 2009

Alimov Sergius

Fate Of The Maiden

#05, canvas, oil

13.8"x11.8", 2009

Bondar Valentina

Still life with antique dishes

#15, canvas, oil

27.6"x31.5", 2012

Bondar Valentina

Still Life "Old Copper"

#16, canvas, oil

19.7"x21.7", 2013

Gegedish Oksana

Near the mountain lake

#37, canvas, oil

19.7"x27.6", 2013

Grubnik Vladimir

Winter morning

#440, canvas, oil

15.7"x29.5", 2011

Guk Andrey

Alex trumpet solo

#324, canvas, oil

19.7"x27.6", 2010

Guk Andrey

Buick -19, 1910

#335, canvas, oil

19.7"x27.6", 2012

Guk Andrey

Packard - 1917

#336, canvas, oil

19.7"x27.6", 2012

Zhdankin Igor

Swan lake

#39, canvas, oil

31.5"x27.6", 2007

Zhdankin Igor

Golden fish

#40, canvas, oil

43.3"x27.6", 2007

Zhdankin Igor

Three fishermen

#44, canvas, oil

31.5"x27.6", 2007

Zhdankina Natalya

Grasshoppers

#53, canvas, oil

23.8"x19.9", 2008

Zabolotskaya Natalya

Peonies

#09, canvas, oil

19.7"x19.7", 2008

Zabolotskaya Natalya

Gift of October. Mushrooms

#125, canvas, oil

17.7"x11.8", 2010

Zabolotskaya Natalya

Moonlit night at the Desna River. Fishermen bonfire

#215, canvas, oil

15.7"x23.6", 2012

Zaslavskiy Benjamin

Christmas Cactus

#13, canvas, oil

31.9"x32.3", 2012

Kalmykova Ljudmila

Spring flowers

#20, canvas, oil

15.7"x19.7", 2005

Kalmykova Ljudmila

Summer

#29, canvas, oil

27.6"x19.7", 2006

Karlovich Evgeniy

Hoarfrost

#02, canvas, oil

39.4"x27.6", 2012

Karlovich Evgeniy

Winter dawn

#25, canvas, oil

19.7"x35.4", 2013

Kyrychenko Gennadiy

Still life with melon

#161, canvas, oil

27.6"x31.5", 2010

Kyrychenko Gennadiy

May in oak grove

#163, canvas, oil

29.5"x39.4", 2013

Kyrychenko Gennadiy

Lilac bouquet

#164, canvas, oil

37.4"x39.4", 2013

Knish Tatyana

Haymaking

#34, canvas, oil

33.5"x19.7", 2009

Krutous Dmitry

Dragonite

#48, canvas, oil

33.5"x31.5", 2011

Kukharskiy Igor

Flowers

#25, canvas, oil

23.6"x23.6", 2010

Lavriy Oleg

Zoo nanny

#02, canvas, oil

19.7"x15.7", 2011

Lavriy Oleg

A cat was walking on the piano

#08, canvas, oil

15.7"x15.7", 2011