AVIART-2012
Boyko's Producer Centre present Project № 62 the exhibition-sale of painting "Aviart-2012".
27 September - 1 October, 2012.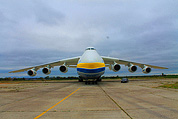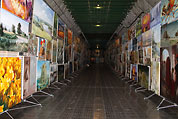 Within the framework of the 8th International Air and Space Show "Aviasvit XXI" together with Antonov Company, on board of aircraft "Mriya" AN-225, the exhibition has risen to a height of 10,150m.
Record for Guinness World Records is set! New chapter in Guinness World Records!
The record was confirmed by Guinness World Record TM Adjudicator - Mr. Jack B Brockbank, who has presented an official Guinness World Records® Certificate.
The exhibition has presented 120 artists with 500 artworks. Ukraine, Gostomel, airport "Antonov".
Section contains the artworks of artists presented on the exhibition. Sorting is made according to the rating of artists by the time of publication of information or its changing.

Afanasev Andrey

Kiev at winter

#04, canvas, oil

15.7"x21.7", 2012

Afanasev Andrey

Church of Podol

#06, canvas, oil

16.5"x22.0", 2012

Agasyan Roman

Andreevskiy spusk. Bulgakov House

#128, canvas, oil

39.4"x31.5", 2008

Agasyan Roman

Venice

#132, canvas, oil

13.8"x19.7", 2010

Agasyan Roman

Still life with grapes

#135, canvas, oil

27.6"x39.4", 2011

Agasyan Roman

Still life with melon

#136, canvas, oil

27.6"x39.4", 2011

Agasyan Roman

Apples

#137, canvas, oil

15.7"x25.6", 2011

Ageyenko Roman

Fateful meeting

#04, canvas, oil

45.7"x35.4", 2003

Ageyenko Roman

Driven by innocence

#09, canvas, oil

45.7"x35.4", 2003

Ageyenko Roman

Sunflowers

#42, canvas, oil

21.7"x25.6", 2012

Belous Vladimir

Harmony

#03, canvas, oil

25.6"x19.7", 2001

Bondar Valentina

Still life with antique dishes

#15, canvas, oil

27.6"x31.5", 2012

Bondarenko Vitaliy

Old pond

#10, canvas, oil

31.5"x27.6", 2008

Cherkasov Alexey

Autumn

#63, canvas, oil

27.6"x39.4", 2007

Cherkasov Alexey

Precious park

#78, canvas, oil

27.6"x35.4", 2011

Cherkasova Iren

Anzhelika

#08, canvas, oil

23.6"x31.5", 2002

Cherkasova Iren

At the samovar...

#15, canvas, oil

23.6"x31.5", 2002

Cherkasova Iren

Blush of summer

#37, canvas, oil

47.2"x31.5", 2004

Cherkasova Iren

Morning dew

#57, canvas, oil

35.4"x27.6", 2004

Cherkasova Iren

Still life

#97, canvas, oil

31.5"x47.2", 2010

Cherkasova Iren

Swans

#109, canvas, oil

19.7"x11.8", 2011

Cherkasova Iren

Beech

#115, canvas, oil

27.6"x19.7", 2011

Cherkasova Iren

Beech grove

#122, canvas, oil

27.6"x19.7", 2010

Cherkasova Iren

Poppies

#128, canvas, oil

23.6"x35.4", 2011

Cherkasova Iren

Lilac. Strawberry. Peonies

#130, canvas, oil

15.7"x23.6", 2012

Chupis Tatyana

Winter morning

#01, canvas, oil

23.6"x31.5", 2012

Chupis Tatyana

Bird's house (triptych)

#02, canvas, oil

33.5"x43.3", 2011

Dashevskiy Oleg

Venice

#05, canvas, acrylics

31.5"x23.6", 2010

Dashevskiy Oleg

Pink

#21, canvas, oil

33.5"x35.4", 2011

Demidenko Alexander

Silence

#04, canvas, oil

27.6"x21.7", 2008