ANNIVERSARY
Boyko's Producer Centre present Project № 50 the exhibition-sale of painting "Anniversary".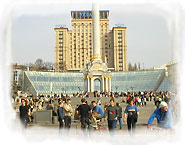 The exhibition is open since February to the end of April, 2010.
Place: Ukraine, Kyiv, Independence Square, Shopping Exhibition Centre "Globus". Line 3, gallery "Globus".
This exhibition presents hundreds of the works of the artists from the different regions of Ukraine.
Time: 9:00-22:30 daily.
Information:
tel. (044) 451-7303.
Section contains the artworks of artists presented on the exhibition. Sorting is made according to the rating of artists by the time of publication of information or its changing.

Agasyan Roman

Early morning

#51, canvas, oil

19.7"x13.8", 2006

Agasyan Roman

Venice

#59, canvas, oil

19.7"x13.8", 2009

Agasyan Roman

Venice

#63, canvas, oil

19.7"x13.8", 2009

Agasyan Roman

Still life with red mums

#78, canvas, oil

23.6"x15.7", 2006

Agasyan Roman

Still life with pomegranates

#80, canvas, oil

23.6"x15.7", 2006

Agasyan Roman

Mums Princess Anna

#81, canvas, oil

11.8"x15.7", 2006

Agasyan Roman

Old hut

#98, canvas, oil

8.3"x5.9", 2007

Agasyan Roman

Pears and mums

#106, canvas, oil

12.0"x16.0", 2007

Agasyan Roman

Dandelions

#113, canvas, oil

5.9"x8.3", 2006

Agasyan Roman

Pomegranate and vine

#120, canvas, oil

23.6"x19.7", 2008

Agasyan Roman

Thinking about time

#121, canvas, oil

23.6"x19.7", 2007

Agasyan Roman

Peonies

#122, canvas, oil

23.6"x19.7", 2008

Agasyan Roman

Andreevskiy spusk. Bulgakov House

#128, canvas, oil

39.4"x31.5", 2008

Agasyan Roman

Pomegranates

#129, canvas, oil

25.6"x15.7", 2008

Agasyan Roman

Venice. Campo San Barnaba

#131, canvas, oil

17.7"x29.5", 2009

Ageyenko Roman

Driven by innocence

#09, canvas, oil

45.7"x35.4", 2003

Ageyenko Roman

Vacation at Crans-Montana

#35, canvas, oil

45.3"x35.4", 2009

Ageyenko Roman

Crans-Montana

#36, canvas, oil

24.0"x19.7", 2009

Ageyenko Roman

Snow leopard

#37, canvas, oil

19.7"x23.6", 2009

Ageyenko Roman

Snowy winter

#38, canvas, oil

9.8"x11.8", 2009

Ageyenko Roman

Inhul river, village Sofievka

#39, canvas, oil

15.7"x9.4", 2010

Ageyenko Roman

Old town

#40, canvas, oil

23.6"x15.7", 2010

Babak Vyacheslav

Brook

#13, canvas, oil

16.5"x21.7", 2008

Babak Vyacheslav

Brook

#14, canvas, oil

21.7"x16.5", 2008

Barannikova Galina

Kiev Pechersk Lavra

#189, canvas, oil

39.4"x31.5", 2008

Belous Vladimir

Harmony

#03, canvas, oil

25.6"x19.7", 2001

Bessmertny Yuriy

Lloret de Mar, Costa Brava, Spain

#129, canvas, oil

27.6"x19.7", 2007

Bessmertny Yuriy

Bather. Andrey Belloli. 1988 (copy)

#141, canvas, oil

14.6"x19.5", 1988

Bondarenko Vitaliy

Southern motif

#04, canvas, oil

13.8"x13.8", 2007

Bondarenko Vitaliy

Boats. Sozopol

#09, canvas, oil

17.7"x11.2", 2004